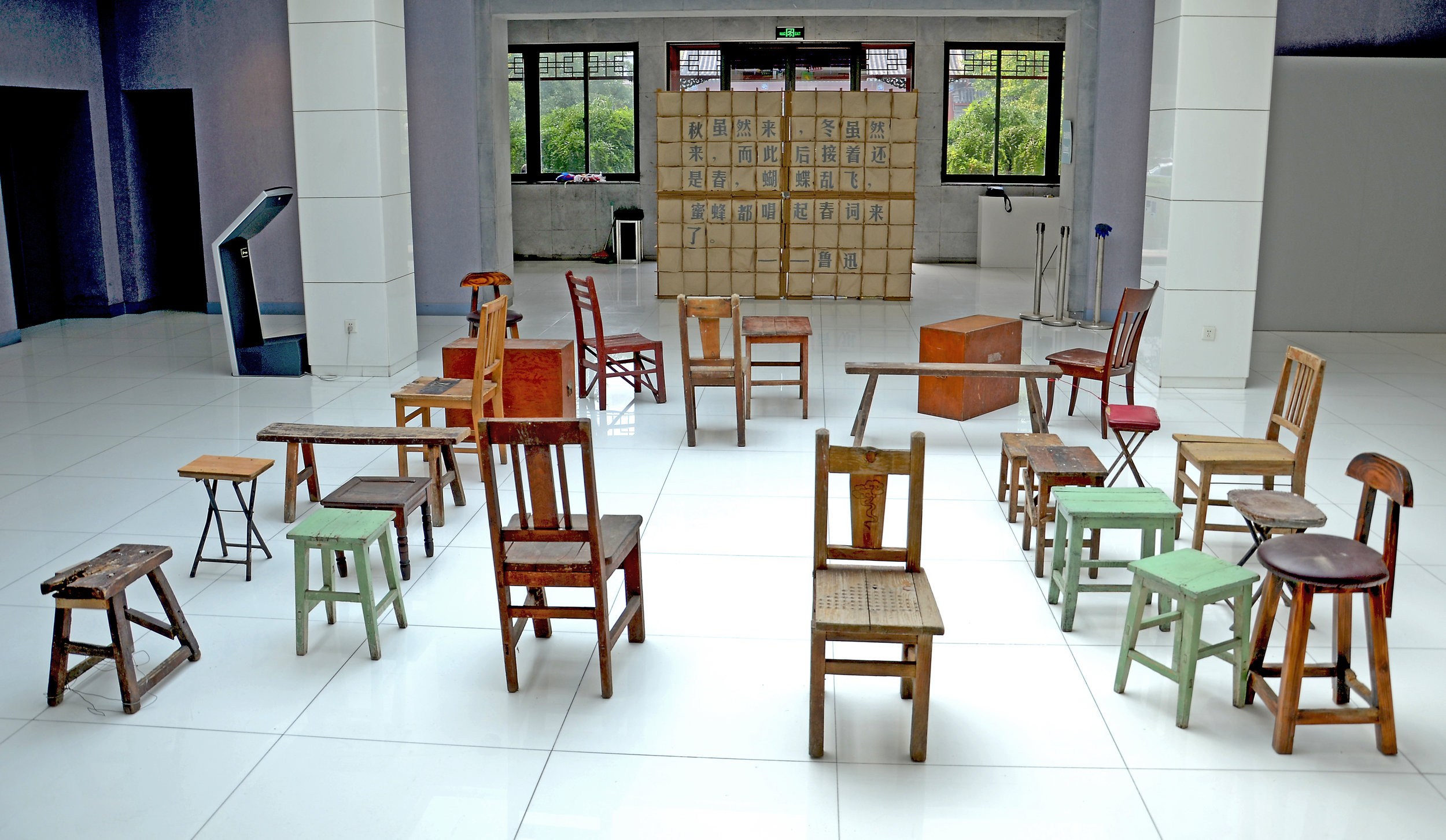 the tea party (2016)
巷里茶话会
胡同从不是上帝视角的棋盘的城市空间,而是微观世界中组合而成的细节整体。我未曾俯瞰到整齐排列的瓦房,却只穿梭于两三人的交谈中、树荫下乘凉的板凳中、此起彼伏的叫卖声中……岁月的痕迹在老旧的木纹中渐渐显露出来,承载着每一个家庭、每一条街道、每一座城市的故事,是它们组成了北京最真实而生动的一面。
It is never the chessboard-like urban space seen from the God view, but the details of the small world that forms Hutong. I could never overlook the orderly arrayed houses, but can pass through the chat between a couple of people, the stools placed under the shade of trees, or the sounds of street vendors. The traces of the old past gradually appears from the aged wooden grain; they carry the stories of each family, each street, and the city, making up the most genuine and vibrant side of Beijing.
Mixed materials, 4.5m x 4.5m
2016
20 old stools and 2 book boxes
老旧凳子和椅子全部从老百姓手中搜集而来,他们曾在或正在胡同生活数十年。全部老旧凳子以旧北平的平面布置展开,并不精确表明尺度,但却带着隐喻一般,重现了老北京胡同中的茶话会场景。
The chairs and stools were all collected from ordinary people who has lived or is still living in Hutong area for decades. They are placed deliberately to implicate the map of the urban space in the past, not precisely but yet metaphorically, to reappear the vivid scene of the tea party on the street.